2022-2023 Catalog
2022-2023 Catalog
---

Grand Rapids Community College
Welcome to the 2022-2023 College Catalog
The Grand Rapids Community College (GRCC) Online Catalog is a comprehensive listing of current information regarding academic programs, policies, degree requirements, procedures, course offerings, and other information for GRCC students. GRCC students are responsible for knowing the requirements for the degrees they are pursuing and for understanding the College's policies and procedures contained in the catalog based on their declared catalog year.
Although this catalog was prepared with the best information available, policies, procedures, fees, and program changes are subject to modification by college officials. Modifications will be indicated on the modifications tab.
Catalog Contents–
Please use the links on the left to navigate to the different sections of the online catalog or cllck on a heading below to take you the section. The 2021-2022 and 2022-2023 catalogs are available in the drop down opton above.  For catalogs from 2020-2021 and earlier, visit the Catalogs (2003-2021) tab.
GRCC Programs by Academic Pathways  
Detailed information on GRCC's Academic Pathways
2022-2023 Academic Programs  –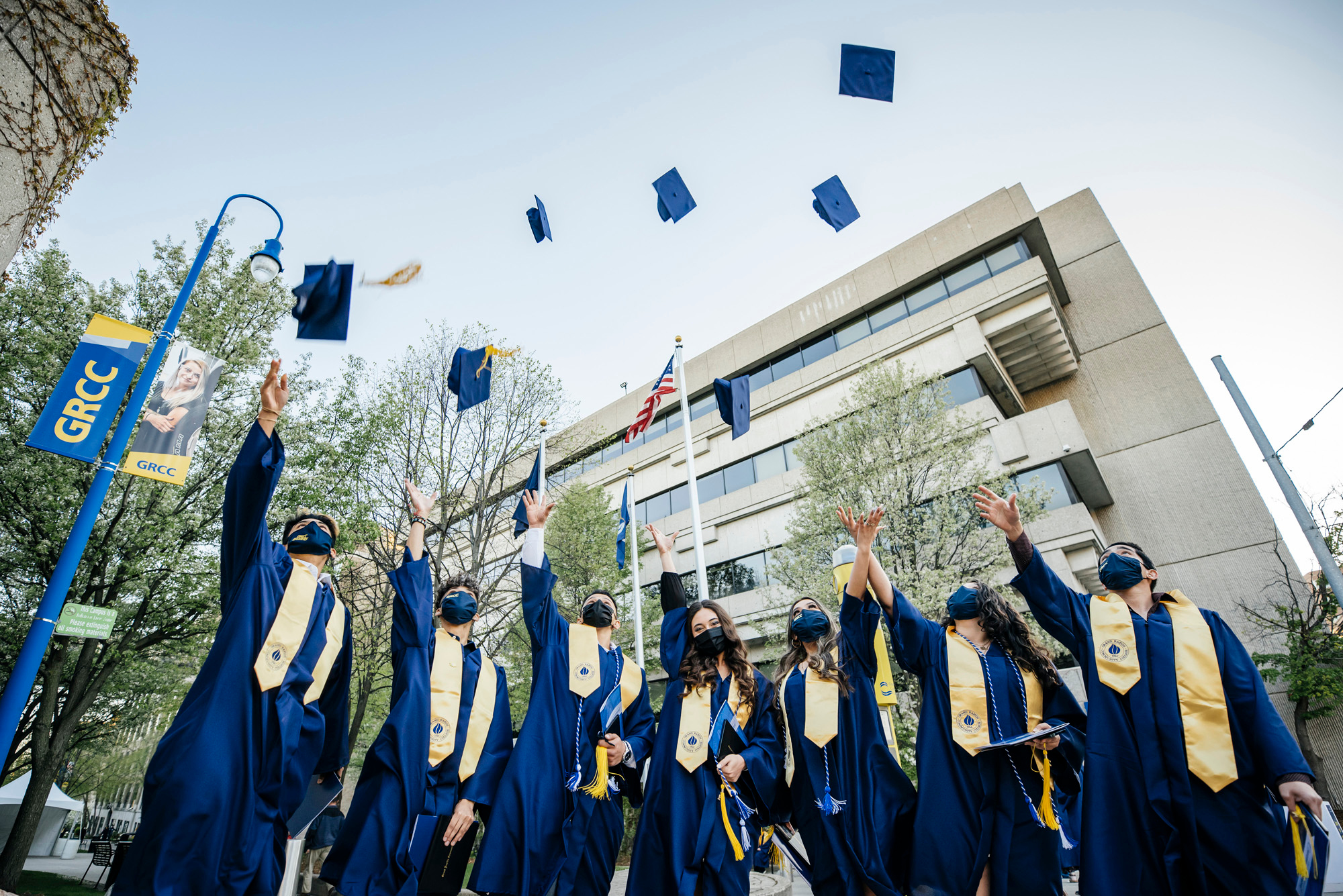 A listing of all GRCC's Academic Programs
Course Codes and Descriptions  –
A listing of all GRCC's Course Descriptions, including credit/contact hours, description, etc.
A listing of GRCC's General Education Courses
Michigan Transfer Agreement - MTA  –
Detail information on the Michigan Transfer Agreement.
For catalogs from 2020-2021 and earlier, visit the archives.
Additional features to assist you with the catalog:
 Degree Planner

 My Catalog

You will find the Degree planner at the top of each program.  By selecting this icon, you will be able to print a checklist of your degree requirements.

My Catalog is a feature within the online catalog that allows you to create a portfolio by selecting information and storing for later reference. To create a portfolio, click on the My Catalog link at the bottom left navigation pane.  After creating an account you will be able to add courses, programs to your portfolio by selecting this icon.
Please work with your adivsor to ensure you are storing information revalent to your catalog year.
Equal Opportunity and Non-Discrimination
It is the policy and practice of GRCC to provide equal educational and employment opportunities regardless of age, race, color, religion, marital status, sex/gender, pregnancy, sexual orientation, gender identity, gender expression, height, weight, national origin, disability, political affiliation, familial status, veteran status or genetics in all programs, activities, services, employment and advancement including admissions to, access to, treatment in, or compensation in employment as required by state and federal law. Further information may be obtained from the Office of General Counsel, 143 Bostwick, NE, Grand Rapids, MI 49503-3295. Telephone: (616) 234-2120.
Should you have a need for alternative format (i.e. Braille, CD, enlarged font); contact Disability Support Services (DSS) at 616-234-4140 to discuss options or arrange an intake with a counselor.
GRCC is a tobacco free campus.
143 Bostwick Avenue NE • Grand Rapids, Michigan 49503-3295
(616) 234-4000 / FAX (616) 234-4005
grcc.edu
---