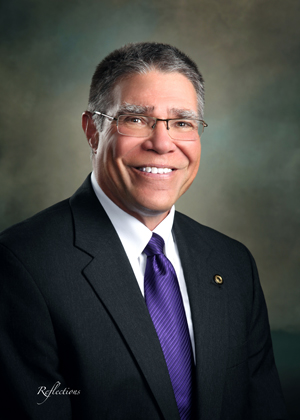 Welcome to GRCC!
Grand Rapids Community College has been helping students achieve their higher educational goals for 100 years. As we celebrate our centennial, I am excited that you are beginning your college journey here, and putting the resources of GRCC behind you as set out to further your education.
The options available to you at GRCC will play an important role in helping you achieve your educational goals. Whether you are here for an associate degree, to transfer that degree to a four-year institution or to retrain in preparation for tomorrow's marketplace, we can set you on the right path. GRCC is dedicated to your success.


We offer more than 150 degree programs, countless transfer programs, and a full array of student support services – from tutoring to career counseling. You have the option of flexible scheduling, and a variety of learning formats so you can tailor your time here to meet your learning style – and your busy lifestyle.
As a GRCC student, you have many options that allow you to personalize your learning experience. You can take one class or a full load. You can learn in state-of-the-art classrooms and laboratories, through experiential learning in your community, or online. Class locations include: our main campus in downtown Grand Rapids; our Devos Campus in Heritage Hill; our Lakeshore Campus in Holland; our Tassell M-TEC in southwest Grand Rapids; or one of our regional centers located throughout Kent County. In addition, you have an opportunity to participate in student organizations, clubs, or sports. You can attend lectures, theatre, or musical events. In short, you can have a great collegiate experience at GRCC.


We are committed to the success of our students, and our number one priority is that when you leave GRCC you have the knowledge and skills necessary to successfully enter the workforce or transfer to another educational institution. 


We are proud you have chosen GRCC to help you achieve your goals. You've taken a wise first step on your educational journey, and we are here to help you succeed.
Sincerely,

Steven C. Ender, Ed.D.
President