President's Welcome
Welcome to Grand Rapids Community College!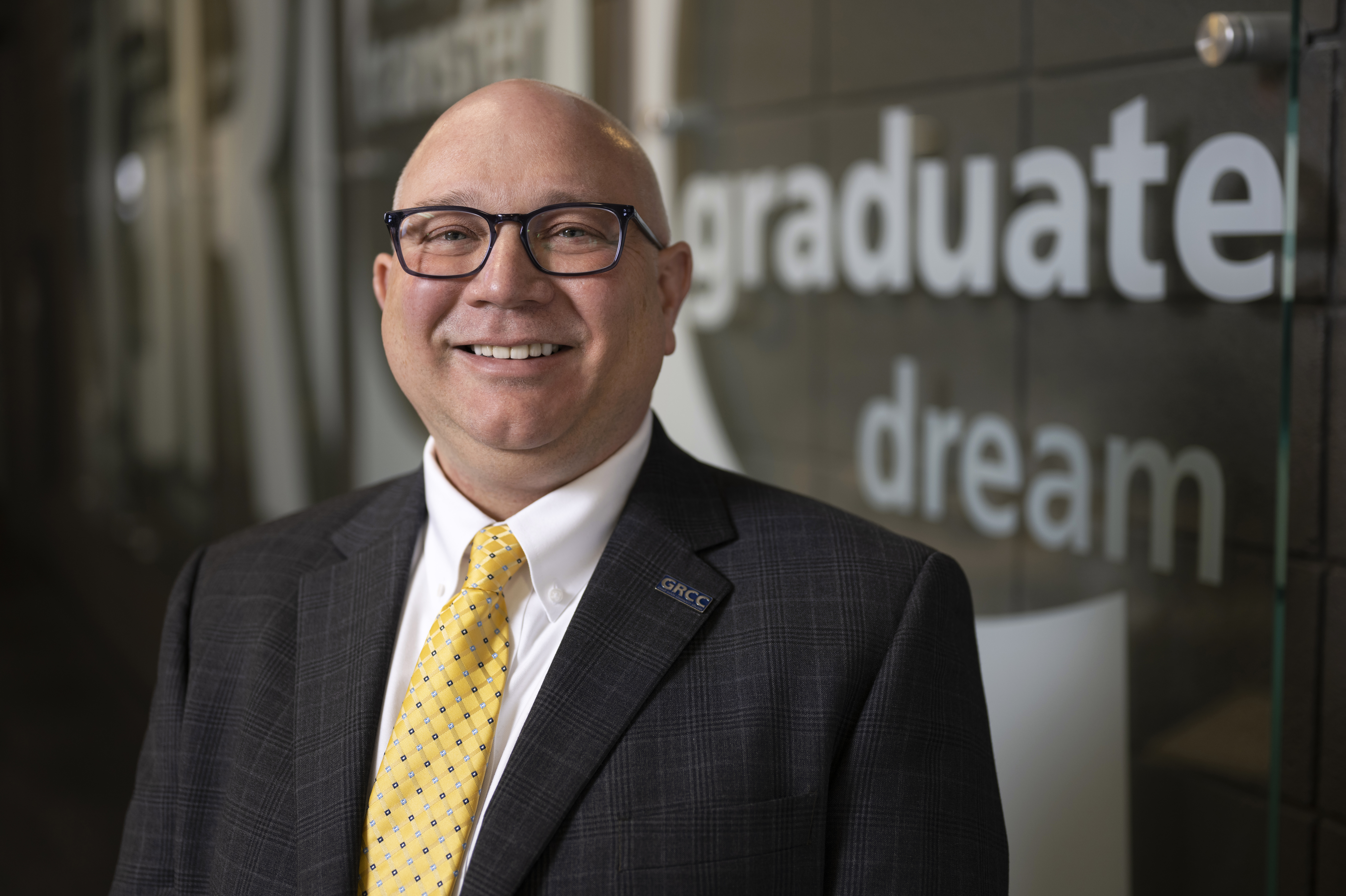 GRCC has been helping students achieve their higher educational goals for more than 100 years, and doing it very well! I know attending college can be rather challenging on several fronts. I am excited that you are beginning, or continuing, your college journey here.
The options available to you at GRCC will play an important role in helping you achieve your educational goals. Whether you are here for a certificate, an associate degree, to transfer that degree or credits to a four-year institution or to re-train in preparation for tomorrow's marketplace, we can provide you with the tools you need for be successful. GRCC is dedicated to helping you thrive.
We offer more than 150 degree-seeking programs, transfer programs, and a full array of student support services, from tutoring to career counseling. You have the option of flexible scheduling, and a variety of learning formats so you can tailor your time here to meet your learning style – and your busy lifestyle.
GRCC offers courses in person. But we learned during the pandemic how other options make an education more accessible. We've expanded the number of classed offered in virtual real-time settings, in hybrid settings, and completely online.
As a GRCC student, you have many options allowing you to personalize your learning experience. You can take one class or a full load. You can learn in state-of-the-art classrooms and laboratories, through experiential learning in your community, or online.
Class locations include: our main campus in downtown Grand Rapids; our DeVos Campus in Heritage Hill; our GRCC Lakeshore Campus in Holland; our Tassell MTEC in Grand Rapids; or one of our regional centers located throughout Kent County. In addition, you have an opportunity to participate in student organizations, clubs, or athletics. You can attend lectures, theater, or musical events. In short, you can have a great collegiate experience at GRCC!
Our top priority is for you to have the knowledge and skills necessary to successfully enter the workforce, transfer to another educational institution – or both – when you leave GRCC.
We are proud you have chosen GRCC to help you achieve your goals. You've taken a wise first step on your educational journey, and we are here to help you succeed.
Welcome to the GRCC family!
Dr. Charles Lepper
President
Interim, President
---
At Grand Rapids Community College, traditional classrooms have been transformed into state-of-the-art learning spaces. These spaces support a breadth of educational opportunities, including experiential learning, seminars, workshops, training courses and online learning. Our students also find support through academic and career counseling, occupational and disability services, and bilingual support.

Every year an average of 15,000 students enroll in more than 2,000 liberal arts and occupational courses. Our diverse student body includes students from Kent and surrounding counties, as well as students from across the United States and several other nations. Learners from all walks of life are also served by many noncredit certificate and job training opportunities - bringing the average number of students on our campuses to more than 29,000.

We employ an average of 260 full-time and 470 part-time faculty members, and a staff of 400 full-time and 250 part-time members, all of whom are focused on student success. Throughout our more than 100 years of academic excellence, GRCC has maintained a solid reputation as a premier transfer institution and is nationally recognized for both its liberal arts and occupational programs.

Our downtown learning spaces include the Main and DeVos campuses. Adjacent to West Michigan's thriving Medical Mile, the Main Campus is in the heart of Grand Rapids – putting it at the center of local festivals and art shows, and within walking distance to an exciting mix of museums, fitness facilities, restaurants and shops.

The DeVos Campus, nestled in the heart of Heritage Hill, boasts the Mable Engle House, Sneden Hall, Lettinga House, and the LEED-certified Stewart Edward White Hall. Other facilities include two Michigan Technical Education Centers, or MTECs, one in Kent and another in Ottawa County. We are involved in Early/Middle College partnerships with Ottawa Hills, Wyoming, and Cedar Springs and have regional centers in Lowell, Rockford, Grandville and Byron Center. We also offer classes in Kent City and at the Kent Careerline Tech Center.

GRCC also offers degrees on the Lakeshore, at five locations in Holland: Midtown Center, West Ottawa High School, GVSU Meijer Campus, Career Tech Center and Patrick A. Thompson MTEC.
 
Grand Rapids Junior College was founded in 1914 by the Grand Rapids school district's Board of Education after the University of Michigan passed a resolution encouraging the establishment of junior colleges in the state. In the '50s and '60s, legislative acts further clarified the role of community colleges in Michigan. This, along with the education and training needs of West Michigan, provided GRJC with direction and purpose.

GRJC was first located in Grand Rapids Central High School. Eight faculty members taught rhetoric and composition, mathematics, history, biology, physics, Latin, and German. The first graduating class numbered 49 students. By 1945, enrollment had grown to 1,200 students, representing 53 Michigan communities, five states, a territory, and one foreign nation. In the next decade, the college's enrollment doubled. Under the 1966 Community College Act, the state included post-secondary vocational-technical education in the definition of the community college program - further growing our programs.

In 1991, Kent County taxpayers voted to redistrict GRJC. The college was renamed Grand Rapids Community College, gained a board of trustees, and its boundaries were extended beyond Grand Rapids Public Schools to include the 20 districts within the Kent Intermediate School District. By 1996, the college was serving more than 25,000 full- and part-time students.
Vision
GRCC provides relevant educational opportunities that are responsive to the needs of the community and inspires students to meet economic, social and environmental challenges to become active participants in shaping the world of the future.
Mission
GRCC is an open access college that prepares individuals to attain their goals and contribute to the community.
Values
Excellence – We commit to the highest standards in our learning and working environments.
Diversity – We create an inclusive, welcoming, and respectful environment that recognizes the value, diversity, and dignity of each person.
Responsiveness – We anticipate and address the needs of students, colleagues, and community.
Innovation – We seek creative solutions through collaboration, experimentation, and adaptation.
Accountability – We set benchmarks and outcomes to frame our decision-making, measure our performance, and evaluate our results.
Sustainability – We use resources in responsible ways to achieve equity across our social, economic and environmental practices and policies.
Respect – We treat others with courtesy, consideration and civility.
Integrity – We commit to GRCC values and take personal responsibility for our words and actions.